Registered User

Join Date: Jan 2012

Location: The Bay

Posts: 6,637
SAN JOSE | 600 S First Street | 252 FT | 23 FLOORS
---
Specs:
- 252 FT | 23 FLOORS
- 336 units (39 studios, 218 1BR, 79 2BR)
- 28 of the units will be affordable
- 5,655 sq ft ground floor retail
The site:
https://goo.gl/maps/ESPPWqeF3SYiS1249
Quote:
Construction Moves Forward On Garden Gate Tower In Downtown San Jose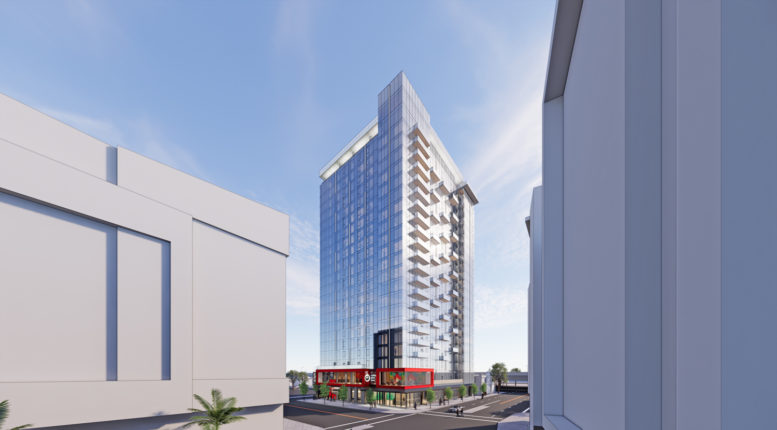 BY: ANDREW NELSON 5:30 AM ON JUNE 28, 2022

Construction work is underway for Garden Gate Tower, a 23-story residential building in Downtown San Jose. The building is rising at 600 South First Street, located at the street's intersection with East Reed Street and next to the I-280 Freeway. Scape, an international real estate firm with offices in Boston, is the project developer.

The building had been set to rise 27 stories with 290 units before a redesign in April of last year lobbed off four levels but increased its overall residential capacity to 336 apartments. Of that, 28 will be affordable housing units. Apartment sizes will vary, with 39 studios, 218 one-bedrooms, and 79 two-bedrooms.

The 252-foot tall structure will yield 366,840 square feet, with 273,720 square feet for residential use, 5,655 square feet for retail, and 51,400 square feet for parking.

C2K Architecture is responsible for the design. The building's exterior makes use of private balconies as a key design feature, creating negative spaces between articulated volumes of curtain-wall glass. ​​The proposal has seen a few design changes since initially proposed. The latest design, confirmed with C2K Principal Kevin Sauser, reintroduces the red elements on the podium. The balconies have been scattered along each facade, with a vertical glass pinnacle rising at the corner of South First and East Reed.

...

The building is located within the SoFA District, the city's designated arts, cultural, and entertainment area. The area includes many cafes, restaurants, public art pieces, and festivals throughout the year.

Demolition was required for the former surface parking lot and brick building at 618 South 1st Street, while the mission-revival building at 8 East Reed Street was moved 900 feet and is now owned by Habitat for Humanity.

The project has been able to start after Scape, a London-based firm with offices in Boston, received $182 million in construction financing from Madison Realty Capital, a private equity fund. An estimated construction timeline has not yet been established, but with demolition complete and crews now starting on-site, the tower is likely to take between two to three years to finish.
https://sfyimby.com/2022/06/construc...-san-jose.html