constructum omnia ubique

Join Date: Jun 2005

Location: lodged against an abutment

Posts: 6,026
Quote:
Every 4 Minutes, Another American Home Or Business Goes Solar

If you missed yesterday's Solar Summit at the White House, we have the whole rundown for you, including this little nugget: every four minutes, another American home or business goes solar. No, for realz. That's a direct quote from the Solar Summit fact sheet.

However, apparently that four-minute mark is not good enough for the Obama Administration, which just used the Solar Summit to launch a whole new raft of initiatives that will ramp up the pace of development even faster. Combined with the falling-off-the-cliff trend in solar pricing, you're looking at a major trend in US workforce development that should bury that tired old "jobs-versus-environment" argument once and for all.

New Solar Summit Programs
http://cleantechnica.com/2014/04/18/...-growth-spurt/
Quote:
Top 5 Policy Tricks Against Solar
Originally published on SolarWakeup.
By Yann Brandt

After incredible victories by solar policy groups, the anti-solar world lead by the likes of ALEC and investor owned utilities is coming out with a new bag of tricks. We have already seen the work come out in drafts of bills and those filed by legislators doing the work of the crowd going against solar. Most local solar companies engage in some level of statewide policy advocacy and as such needs to be up to speed on the tactics that may be happening in other States.

Solar policies are written to catch up to the market that has been carved out by large corporations that don't want any competition or consumer choice in the market. The ability to put solar on your house or business should be an option for everyone, regardless of the State you live in. The transparency in the tactics is becoming clearer since solar now has policy shops that can help the strong grassroots support for our industry. "Sunshine is the best disinfectant;" as we present the top 5 policy tricks being used against solar:

5. Kill solar legislation in committee; it's just too popular with the people

4. Too much solar is a cost shift from the rich to the poor

3. The utilities love solar; we have no problem with it and welcome it

2. Get rid of net metering, for something that's better (Pinky Promise?)

1. Allow solar leasing…but only if provided by the investor owned utility
http://cleantechnica.com/2014/04/18/...-tricks-solar/
Quote:
April 18, 2014
Eleven states generated electricity from nonhydro renewables at double U.S. average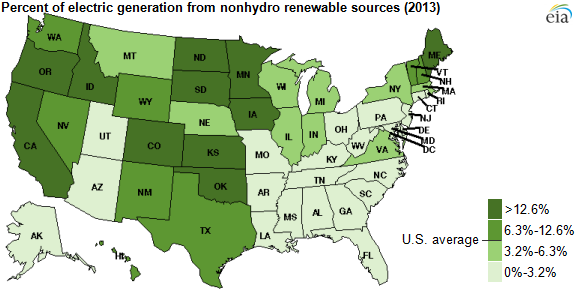 About 6.2% of total U.S. electricity supplies in 2013 were generated from nonhydro renewable energy sources such as wind, solar, biomass, and geothermal, up from 5.4% in 2012. But 11 states produced electricity at more than twice the national average from these sources—accounting for between 14% and 32% of their net electric generation—according to preliminary 2013 generation data in EIA's Electric Power Monthly report.
http://www.eia.gov/todayinenergy/detail.cfm?id=15911
Quote:
US mid-scale solar market to get US$100 million finance boost
By John Parnell - 17 April 2014, 11:07
In News, Power Generation, Finance

A new US$100 million project finance fund for distributed solar in the US is to be set up by Hannon Armstrong Sustainable Infrastructure (HASI) and clean energy finance firm Sol Systems.

The construction and term debt financing will be offered to developers and owners of commercial, municipal and utility-scale projects in the US.

"With this programmatic finance solution for solar developers, we are looking to take the economic and documentation uncertainties out of the finance process and accelerate a developer's ability to close on a project," said Jeffrey Eckel, president and CEO, HASI.

"We believe this new offering will provide the distributed solar industry with a flexible source of capital for portfolios of smaller projects, along with the skilled staff needed to transact at scale, with speed," he added.
http://www.pv-tech.org/news/us_mid_s..._finance_boost
Quote:
April 17, 2014
High-temperature plasmonics eyed for solar, computer innovation

WEST LAFAYETTE, Ind. - New "plasmonic metamaterials" that operate at high temperatures could radically improve solar cell performance and bring advanced computer data storage technology that uses heat to record information on a magnetic disk.

The materials could make it possible to harness clouds of electrons called surface plasmons to manipulate and control light. However, some of the plasmonic components under development rely on the use of metals such as gold and silver, which cannot withstand high temperatures. They also are not compatible with the complementary metal–oxide–semiconductor (CMOS) manufacturing process used to construct integrated circuits.

Purdue University researchers are working to replace silver and gold with titanium nitride and zirconium nitride.

"These materials remain stable at the high operational temperatures required for high efficiency and performance," said Urcan Guler, a postdoctoral research associate working with Alexandra Boltasseva, an associate professor of electrical and computer engineering, and Vladimir M. Shalaev, scientific director of nanophotonics at Purdue's Birck Nanotechnology Center and a distinguished professor of electrical and computer engineering.

The promise of high-temperature plasmonics is described in an article appearing Friday (April 18) in the journal Science. The article, appearing in the magazine's Perspectives section, was co-authored by Guler, Boltasseva and Shalaev.

Metamaterials have engineered surfaces that contain features, patterns or elements, such as tiny antennas or alternating layers of nitrides that enable unprecedented control of light. Under development for about 15 years, the metamaterials owe their unusual potential to precision design on the scale of nanometers.

Now, researchers have discovered that a new class of plasmonic technologies might use high temperatures to achieve superior efficiency. One obstacle, however, is that the operational temperature required for high-efficiency devices is estimated to be around 1,500 degrees Celsius (about 2,700 Fahrenheit). Titanium nitride and zirconium nitride are said to be refractory, meaning they have a high melting point and chemical stability at temperatures above 2,000 Celsius (about 3,600 degrees Fahrenheit).

The materials might be used for solar thermophotovoltaics, in which an ultrathin layer of plasmonic metamaterials could dramatically improve solar cell efficiency: Whereas today's solar cells have an efficiency of about 15 percent, in theory the efficiency might be improved to as high as 85 percent with solar thermophotovoltaics. The plasmonic layer acts as a thin "intermediate spectral converter" that absorbs the entire spectrum of sunlight and then illuminates the solar cell, Guler said.

The spectral converter is an extremely thin layer of metamaterial that uses plasmonic nanoantennas to absorb and emit light. The layer might be as thin as 500 nanometers, or half of a micron, roughly one-hundredth the width of a human hair. This layer of material would be heated by sunlight to about 1,500 degrees Celsius.
http://www.purdue.edu/newsroom/relea...nnovation.html
http://www.rdmag.com/news/2014/04/hi...ter-innovation
Quote:
Internal report slams U.S. handling of Abound Solar guarantees
By Valerie Volcovici
WASHINGTON, April 17 Thu Apr 17, 2014 4:55pm EDT

(Reuters) - The U.S. Department of Energy displayed a "lack of guidance" in how it dealt with millions of dollars in loan guarantees to now-bankrupt Abound Solar Manufacturing, the agency's internal watchdog said in a report on Thursday.

The DOE in recent years has tried to help commercialize the production of solar equipment such as panels and photovoltaic modules with a series of loan guarantees.

The program was savaged by Republican lawmakers after the high-profile bankruptcy of California-based solar manufacturer Solyndra in 2011. The latest audit of loan guarantees to Abound could re-open those wounds.

In a 32-page report, the DOE's Inspector General reviewed the case of Colorado-based Abound, which filed for bankruptcy protection in June 2012 and laid off more than 100 employees, after receiving about $70 million of a $400 million loan guaranteed by the government.

Although the DOE said it had identified and taken steps to mitigate risks, and suspended funding when the company failed to meet certain milestones, the IG report said the loan guarantee program had not established "comprehensive policies, procedures and guidance for awarding, monitoring and administering loans."

"We noted a lack of guidance in the areas of the Board's reconsideration of loans, the processes for resolving differences in professional opinions among the Program's technical experts, the nature and timing of financial and industrial analysis, and the management of distressed loans," the report said.
http://www.reuters.com/article/2014/...0N90YK20140417
Quote:
Shunfeng completes issue of USD 460 million in convertible bonds

Shunfeng Photovoltaic International Ltd. (Changzhou, China) has completed the private issue of USD 460 million in 10-year convertible bonds. USD 280 million of these convertible bonds went to shareholder Cheng Kin Ming and his company Peace Link Services Ltd. (British Virgin Islands) to repay his down payment on Wuxi Suntech (Wuxi, China).

Chen Kin Ming paid USD 410 million to secure Shunfeng's acquisition of the solar photovoltaic (PV) cell and module maker in December 2013, in accordance with terms of the acquisition. The remaining USD 180 million in convertible bonds were acquired by three individuals and Power Triumph (British Virgin Islands), all of whom are listed as independent third parties.

Placement to increase share capital by 50%

The convertible bonds bear no interest, and are priced at USD 0.46 per share, representing 1 billion Shunfeng shares. These bonds increase the company's share capital by 50%.

This is only one of a number of convertible bond issues and other measures that Shunfeng is undertaking to raise capital, both for costs associated with the Wuxi Suntech acquisition and its PV project business.

The price of USD 0.46 per share is equal to roughly 79% of the of the average closing prices of a six day period prior to the initiation of the bond issue.
http://www.solarserver.com/solar-mag...ble-bonds.html
Quote:
Synergy Study: Colocating solar farms and biofuel crops
Written by Sandra Henderson 17 April 2014

Scientists at Stanford University in California (US) have created computer models for exploring the advantages (and possibly drawbacks) of "colocating" solar panel farms with biofuel crops. Such colocated solar-biofuel systems could be a win-win approach, potentially a creative solution to more than one problem: generating solar energy and easily transportable liquid fuel from biofuel cultivation while conserving land and water.

Dust and dirt have to be washed off photovoltaic (PV) panels regularly anyway to ensure optimal efficiency. Runoff water from cleaning the solar panels would water the crops. The vegetation in turn would help anchor the soil to alleviate erosion and reduce the dust being kicked up from the ground by wind. The locational advantages for sunny areas, where land or water are scarce, are evident — both land use and water use would be doubled up.

The types of plants the Stanford team has in mind for drylands, where many solar farms operate, are ones that can ecologically and physiologically adapt and achieve meaningful yields on less fertile soils with low water availability; for example, several species of agave, including the tequila plant. Native to North and South America, these perennial evergreen xerophytic plants can be used to produce liquid ethanol, a biofuel that can be mixed with gasoline or used to power ethanol vehicles.

"In water-limited areas, coupled solar infrastructure and biofuel cultivation could be established in marginal lands with low water use, thus minimising the socioeconomic and environmental issues resulting from cultivating biofuel crops in prime agricultural lands," says Sujith Ravi, who is conducting postdoctoral research in environmental earth system science at Stanford.
http://www.solarnovus.com/synergy-st...ops_N7662.html
Quote:
Article Released Tue-15th-April-2014 19:16 GMT
Contact: Mikiko Tanifuji
Institution: National Institute for Materials Science
An abundant and inexpensive water-splitting photocatalyst with low toxicity

Researchers at Japan's National Institute for Materials Science have discovered a new photocatalyst, Sn3O4, which facilitates the production of hydrogen fuel from water, using sunlight as an energy source.

Technology that allows the direct conversion of sunlight, an ultimate renewable energy, into chemical energies (i.e., fuels) that can be condensed and transported is not yet available. As such, solar energy is not ready at present to be utilized in place of conventional fossil and nuclear fuels.

Many water-splitting photocatalysts, such as titanium dioxide (TiO2), can decompose water and produce hydrogen fuel when absorbing ultraviolet light. However, due to their inability to absorb visible light, which accounts for more than half of solar energy, their practical use in the conversion of solar energy is limited. While the development of new photocatalysts that can split water by absorbing visible light has been worked on globally, there are cost- and environment-related issues because many of the available photocatalysts contain expensive rare metals, such as tantalum, or high concentrations of lead, which is very toxic.
http://www.researchsea.com/html/arti..._toxicity.html
http://www.sciencedaily.com/releases...0416172027.htm
---
Last edited by amor de cosmos; Apr 18, 2014 at

5:03 PM

.